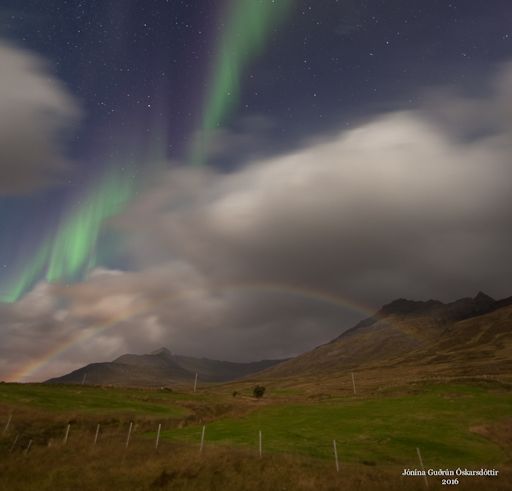 A MOONBOW AMONG THE AURORAS
As predicted, Earth is entering a stream of solar wind on Sept. 20th, and this is sparking G1-class geomagnetic storms around the Arctic Circle. Jónína Óskarsdóttir photographed the light show from Faskrudsfjordur, Iceland. Note, however, that there's more than auroras in Óskarsdóttir's shot.  "I also saw a moonbow!" she says.
"This is the first time in my life I've seen a moonbow," says Óskarsdóttir.  "It made me extremely happy."
A moonbow differs from a common rainbow in only one way: it is created by the Moon rather than the sun.  Moonbeams bouncing in and out of falling raindrops are broken into their primary colors, spread into an arc across the sky. The source of the raindrops in Óskarsdóttir's photo is clear: "It was partly cloudy," she says, "and I was glad to be able to see the auroras in between the rainclouds."
More auroras are in the offing tonight as Earth moves deeper into the solar wind stream.